Product Details morphs 01
Dimensions&nbsp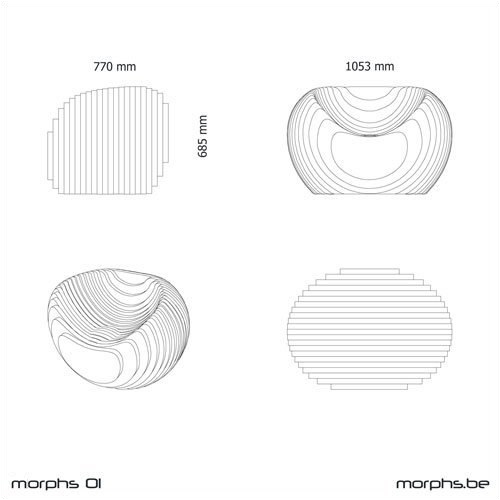 morphs 01 : H 685mm W 1053mm D 770mm
morphs 01
This single seat is the design of Peter Donders, who prefers to work with organic shapes, which makes this seat not only blend in perfectly with the plants in your garden, but also offers you excellent sitting comfort. Made of solid foam and finished with a weatherproof coating this seat can equally be part of your interior as well as being used outside, in the garden or on the patio or terrace. Either way it will function as a real eyecatcher. This expressive model will not go unnoticed. Like all morphs models, this basis model is available in your own personal color choice. (see specifications menu for more about available colors).
General Specifications
The morphs 01 is the basic shape from which a number of variations are being made. (morphs 02 etc).

In the seating surface there is a special comfort-zone for extra sitting comfort.
The seat's base has a couple of indents to make the seat easy to handle.

The morphs seats are built up of 22 seperately cut contours that after being carefully glued, are coated in polyurea and then the top layer, in the color of your choice, is applied.

Laquer:
Ground layer - 1 to 5 mm Polyurea (Very strong, tough-elastic.)
Top layer - 25 standard colors. Optionally available in all RAL colors (
) and all NCS colors (
) at a surcharge. (contact us for more information)

Weather proof: minimal fading under influence of UV-light (Sun)

Washable: use non-abrasive cleaning products only.

Foam:
PU 38 kg
Other foam or densities are available depending on the planned use.

Options
Cleaning products and covers are available as options.
Additional information in this pdf file:

(click icon to download)